History of Crawford's Gift Shop – Breezewood, PA
Formerly Known As Crawford's Museum and Everett Supply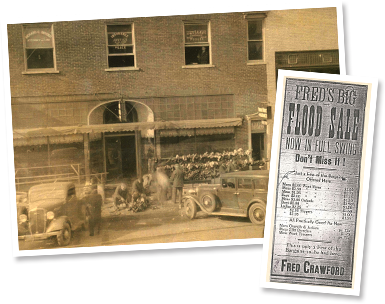 The Great Flood of 1936
The store was impacted by the Great Flood of 1936 on March 17-20, 1936. This flood, sometimes referred to as the "St. Patrick's Day Flood," (the same series of floods that destroyed 77 buildings and resulted in widespread damage and loss of life in Johnstown and throughout the state on both sides of the Eastern Continental Divide in 1936), caused property damage, but the store and the Crawford Family endured and continued to flourish.
(Photo copyright Altoona Mirror, March 26, 1936.)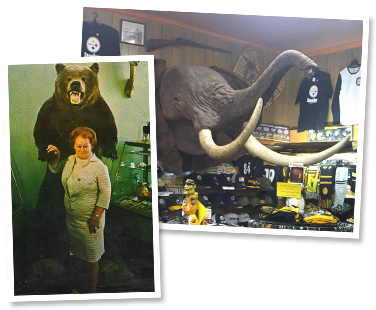 Crawford's Museum and Gifts
Local schools would often schedule field trips to the museum to provide their students with the opportunity to imagine what the exotic animals looked like in their own habitats in the wild. As time went on, Crawford's was converted into a stopping point for travelers passing through. Travelers were able to view the taxidermy animal displays while resting from their trips. To enhance the experience, the store offered souvenir items that patrons could take home with them as keepsakes. During this time, the store was known as Crawford's Museum (and Gifts).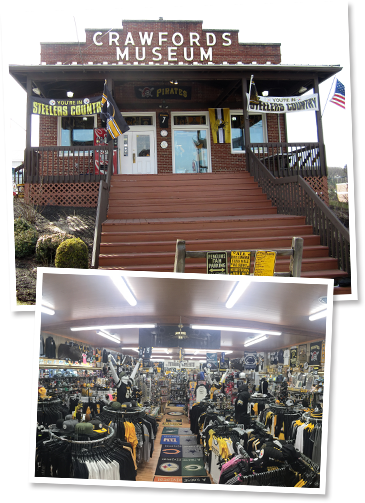 Where It All Began – Everett Supply in Everett, PA
The Crawford family's original business, Everett Supply, was located on Main Street in Downtown Everett for over 20 years. It was located where M&T BANK currently stands.
Initially a department store, some locals from the area still remember going with their parents when they were children to shop at Everett Supply. They have memories of their fathers purchasing suits for business and clothes for leisure, their mothers looking through the selection of fabrics to make clothing at home, and the excitement of getting a new pair of saddle shoes for school.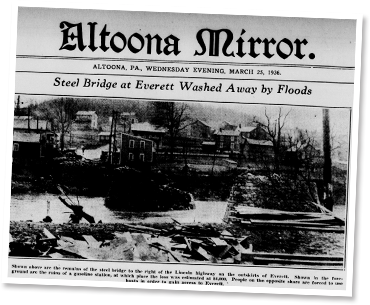 The Crawford Taxidermy Display Moves to Breezewood
Following recovery from the flood, the Crawford family (being avid hunters) began adding taxidermy mounts of their hunting trophies and exotic animals from around the globe throughout the store, displayed as exhibits within dioramas for effect. As the taxidermy collection outgrew the capacity of the store, the entire business was relocated to Breezewood, Pennsylvania between 1957 and 1958.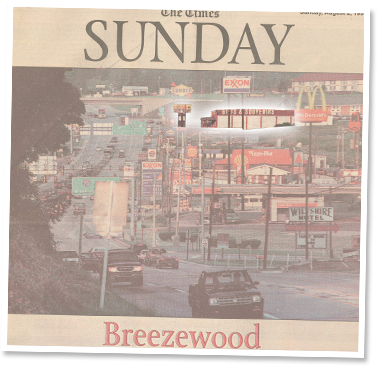 Crawford's Gift Shop – Your Black and Gold Headquarters
In 2004, the store evolved once again. The Pittsburgh Steelers were scheduled to play the New England Patriots in the playoffs. To show support for our local team, the Crawford family offered Steelers merchandise in a small section of the store. Despite the Steelers' loss to the Patriots that year, customers continue to purchase in-stock Pittsburgh Steelers merchandise and continued to ask when new merchandise would be arriving.
Little by little, as various sections of gift items and souvenirs were sold, they began to be replaced by Steelers merchandise. Penguins and Pirates merchandise was eventually added, as well. Soon, Crawford's store had become a showcase of merchandise and memorabilia of all of Pittsburgh's national sports team franchises. Within just a few short years, the store became formally known as Crawford's Gift Shop — Your Black & Gold Headquarters, in Breezewood, PA. Since this latest transition, the store has been visited by Steelers legends, Reggie Harrison and Robert Patrick "Rocky" Bleier.
Although there have been many transitions over the years, it appears that sports fan gear and Steelers, Penguins, and Pirates collectibles (with a little wildlife taxidermy scattered throughout the store) are here to stay.