Crawford's Gift Shop -- Your Black & Gold Headquarters
Official Pittsburgh Steelers, Penguins & Pirates Team Gear and Merchandise
Crawford's Gift Shop in Breezewood, PA has all the trendiest official merchandise from your favorite Steel City teams! We offer the largest selection of Steelers gear, including a vast stock of jerseys, apparel, sideline gear, glasses, car accessories, souvenirs, gifts, and so much more. Choose from Pittsburgh Steelers, Penguins and Pirates merchandise, as well as Penn State and Ohio State gear. We also offer a nice selection of Super Bowl apparel and merchandise for many other NFL, MLB, NHL, and NBA teams. New items arrive daily.
Gifts For Your Favorite Pittsburgh Steelers Fan – Men, Women & Children
If you are looking for an awesome, one of a kind gift for your favorite Pittsburgh sports fan or want to take care of your entire gift list for the holidays quickly, we have you covered! With merchandise for men, women, children, and babies, you can shop for the whole family and all your friends and associates conveniently online or stop by and see us in person. Check us out and you will understand why Crawford's Gift Shop is famously known as the Black & Gold Headquarters. We truly are the region's largest Pittsburgh Fan store. We are not exaggerating when we say that people travel from miles and miles around to shop at our store, including professional athletes, coaches, super fans, and sport enthusiasts. Find your favorites right here: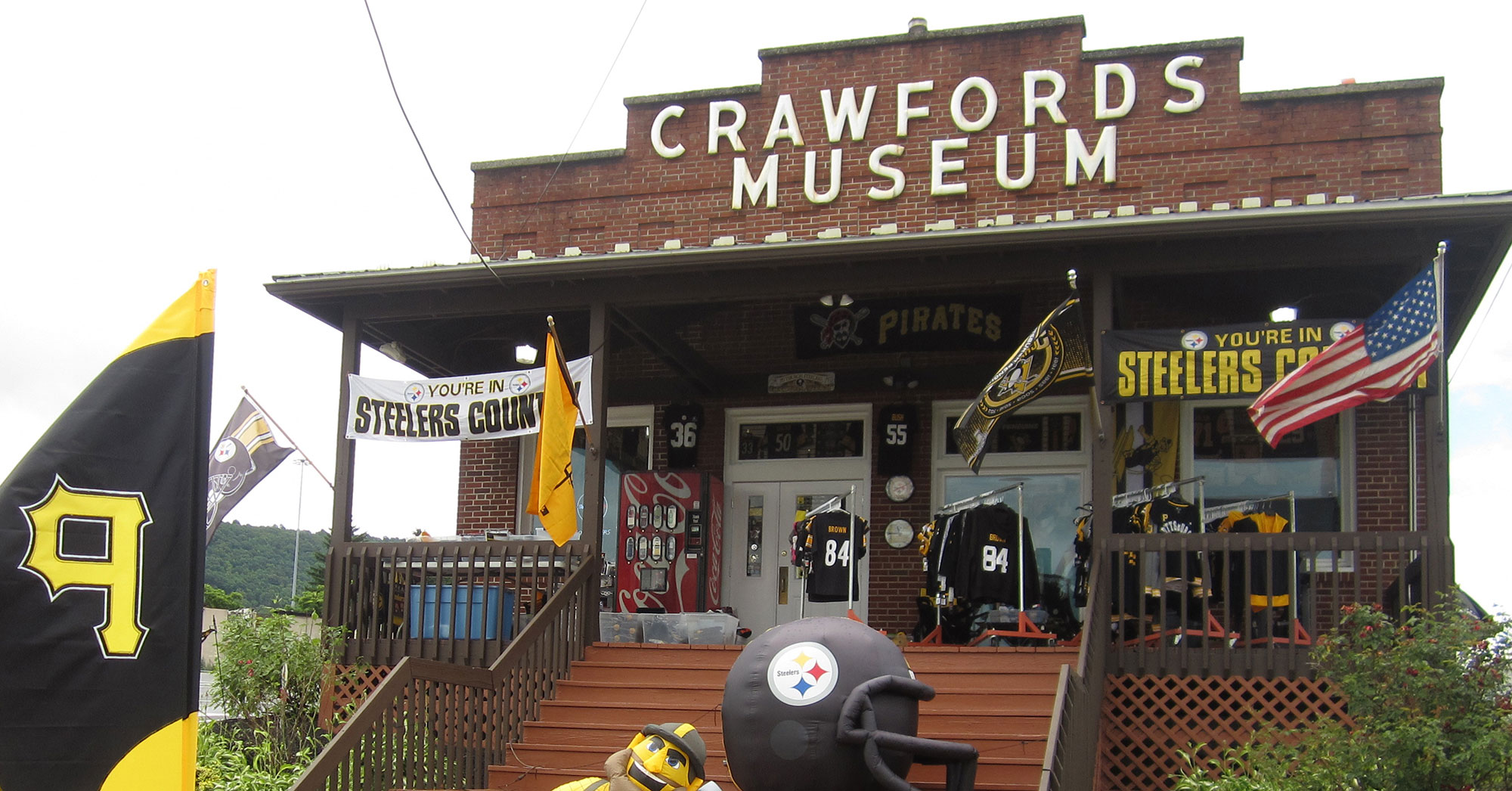 Perfect PA Day Trip Travel Destination – Breezewood, PA
Crawford's Gift Shop is located near the famous Breezewood Travel Interchange (where the PA Turnpike, I-70/I-76, and Lincoln Highway/Route 30 converge), a favorite rest stop and traveler's oasis for hundreds of years, when it served as an important ancient trading trail. Aside from Manhattan's Holland Tunnel, the Breezewood Interchange is the only primary interstate highway in the country that includes stoplights and an entire service industry to help you refresh. There are plenty of activities, shopping destinations, and great places to eat in the local area, as well as an abundance of hotels, motels, and inns. Make a day of it (or more) and explore a few of the many unique and fascinating attractions in and around one of America's most iconic landmarks! Breezewood is the perfect day trip travel destination for sports fans.