Pittsburgh Steelers Gear – Crawford's Gift Shop
Shirts, Hats, Jerseys, and Other Merchandise
Your Black & Gold Headquarters
Are you looking for something special for your favorite Pittsburgh Steelers fan? Boy, have you come to the right place! Crawford's Gift Shop offers the largest selection of Official NFL gear. Our collection includes an amazing selection of jerseys, hats, t-shirts, hoodies, glassware, home décor, flags, banners, travel mugs, autographed collectibles, and all-season clothing and outdoor apparel in men's, women's, youth, and infant's sizes. Dress the entire family for game day, fly your Steelers flag, and cheer on the Black & Gold in style from Heinz Field, a tailgate party, or your couch.
Terrible Towels, Souvenirs, and
Shirts For Men, Women & Kids
Get ready for game day! We have everything you need to get in the Steelers state of mind. From cute souvenirs, toys, and novelty items to blankets, jerseys, and apparel in sizes for infants and kids to women and men's sizes up to 5XL, we have the perfect gift for every Steelers fan. Don't forget your Terrible Towel!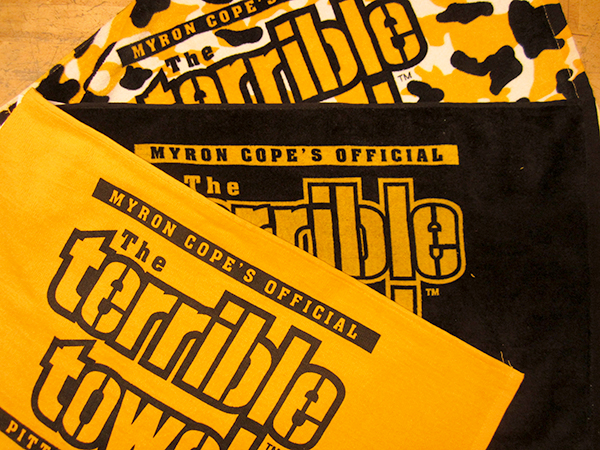 A Brief History of The Terrible Towel
Introduced by the late Myron Cope on December 27, 1975, The Terrible Towel was the first ever rally towel -and its reputation as a good luck charm and means to invoke the true, powerful spirit of Steelers Country has followed it ever since. Yoi! -and Double Yoi!
Waved from Three Rivers Stadium, Heinz Field, living rooms across the country and destinations far and wide (including the Great Wall of China, the Olympic Games, and even Mount Everest), the towel that was the brainchild of Cope has become a solid and beloved tradition and symbol of Steelers solidarity for fans around the world. We can't say for sure what impact the Towel has had, but the Steelers' six Super Bowl championships and eight AFC championships have earned them their place as one of the most winning franchises in the history of football. A portion of the proceeds from sales of officially licensed Terrible Towels goes to support the compassionate care provided by the Merakay Allegheny Valley School in Coraopolis, which provides care for Myron Cope's son as well as over 900 individuals with significant healthcare needs.